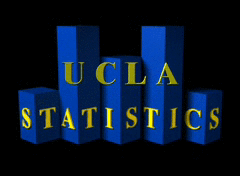 Speakers
:
Ivo Dinov
&
Nicolas Christou

Title
:
The State of the Statistics Online Computational Resources
.
We will discuss the new developments, tools and online materials part of the UCLA SOCR resource. This includes:
4. F
uture developments (5 min)
a.
Integrate with Moodle:
SOCR Educational Materials +
Moodle CMS +
Moodle Assessment Infrastructure.
b. Establish needs of local and outside collaborators.
Acknowledgments
: This is joint work with Annie Che, Jenny Cui, Rahul Gidwani, Juana Sanchez, Rob Gould, Nicolas Christou and
many others
, funded by
NSF DUE 0442992 and NIH U54 RR021813
.